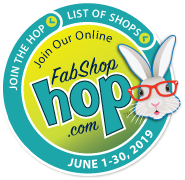 Welcome June Hoppers! Be sure to take a look around. Don't miss out on all the fun items we have coming to the shop. Check out our COMING SOON page to see more! 
See What Customers are Saying About Hummingbird Lane Fabrics and Notions
Filled my order & shipped super fast. Everything was packaged so beautifully too!!!❤️❤️❤️❤️❤️
Amazing! Quick shipping and everything was packaged very well! Great communication and the products are lovely!
so friendly and truly cares about her customers ❤
Just placed my first order on Sunday and already have it in my hands. Beautifully packaged and protected. Thank you soooo much!
Beautiful fabric choices!
Monkey Wrench by Tula Pink
I'm going bananas over this new collection by Tula Pink!  Such a fun and whacky collection.  And it arrives right here at Hummingbird Lane in September 2019.  Now accepting Presale orders.   Come check out this awesome collection and place your order now before it's gone!
Check out the PRESALE HERE
To be notified when the product releases, enter your name and email address below
Vive La France by French General
This Vive La France Wovens collection by French General will have you dreaming of the french countryside. Deep reds and soft blues with gentle floral designs will work great for a quilt, home decor, and even apparel.
Valori Wells is the true definition of artist and it shows in her newest collection Murmur. Her natural born artistic abilities brings this collection adorned with beautiful hummingbirds and vibrant florals.
Mystical Land by Maureen Cracknell
Inspired by mythology, fairy tales, astrology and dreams, Mystical Land by Maureen Cracknell invites you on a journey through a forest of majestic creatures, dancing blooms and celestial symbols in glistening shades of iris, blue, and rose gold.